Hot Cottage 1969 – 1971
With the exit of vocalist Gerry Anderson, Paper Grape evolved into Hot Cottage, a pop orientated outfit featuring multi layered harmonies, favouring the music of Neil Young and Buffalo Springfield mixed with the Brit styling's of the Hollies and Beatles.
Rick from my first band Rick and The Bad Boys was recruited as co vocalist, along with Greg Grace from The Flying Circus.
The line up was completed with ex Johnny Rebb & The Atlantic's Hammond organist, Dick Huxley.
The band became an instant crowd pleaser and was quickly snapped up by EMI / Alberts. We toured incessantly to promote our single Mr Soul/ Bluebird, which received a ton of airplay of but was not a major chart success.
Musical Chairs
In time, Greg Grace returned to the Flying Circus, keyboardist Dick Huxley lost interest and Rick elected to go and party 24/7 with his new found friend, Easybeats singer Stevie Wright.
The band then called on another ex Omen, Barry Dominey to fill the vocal spot. Back down to a four piece, we returned to our Paper Grape format of Blues Rock, embracing the new Brit sounds of Free, Rory Gallagher, Family and Spooky Tooth.
Our next single, Made To Love You, was penned by Ted Mulry whilst the original B side was very much influenced by Free's, Ride A Pony.
The record did much better than our first outing, aided by weekly TV appearances on the four hour Saturday morning music show, Happening 72.
EMI lost interest in our new direction and by the end of '72 I decided to call it quits, electing to concentrate on my career in animation, which I had been pursuing in tandem with my musical endeavours since my Rick and The Bad Boys days.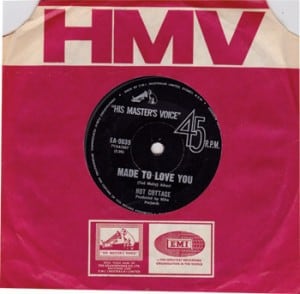 HOT COTTAGE 1972 and TED MULRY
With Hot Cottage reduced back to the '68 foundation trio of myself, drummer Loppy Morris and bass player Steve Hart, we still had the enthusiasm to move forward.
A fine singer, Barry Dominey was another ex Omen, who in the interim had moved to the UK with The Wright Of Way as their drummer, and since returned to our shores.
We recruited Barry and HOT COTTAGE was once again refurbished and ready to go. We returned to our harder edged Paper Grape format of Blues Rock, now embracing the new Brit sounds of Free, Rory Gallagher, Family and Spooky Tooth.
Ted Mulry
Still with no original material of any substance, our next single, Made To Love You, was penned by a new ALBERTS signing Ted Mulry whose record Falling in Love Again reminded me much of Gilbert O Sullivan. Ted was a singer songwriter in the classic mould, but as we soon realised, and the rest of the country would later discover, a great rock and roll talent.
Ted had written Your All Woman, which became a hit for SHERBET, a tune we had originally rejected, so we weren't going to miss out again!
We managed to come up with an original B side, Sour Lovin' , very much indebted to Free's Ride a Pony and EMI Studio 301 once again opened its doors to us.
In its original format, Made to Love You was an acoustic ballad but again referencing Free, we toughened the tune up a tad. Producer Mike Perjanic wrote the Leslie speaker cab guitar riff and certainly drove home the message home to me that I should just keep it simple and play no embellishments what so ever.
Working in the studio next door on new Flying Circus material, our former vocalist Greg Grace came in and added some great harmonies.
My equipment for this session was a '68 Les Paul, a Baker amp (built by Sect guitarist Paul Baker) and a Gibson Hummingbird acoustic.
Engineering was a combined effort between Ross Linton and Davis Woodley Page. This record did much better than our first, aided and abetted by weekly appearances on the four hour Saturday morning music program, HAPPENNING '72, which just happened to be hosted by our new manger, Channel Ten newsreader, DAL MYLES.
We toured and worked solidly until what should have been our crowning glory turned sour. We did a huge outdoor gig supporting The Kinks and Daddy Cool at Randwick Racecourse to a crowd of over 20,000.
We had also agreed to be Ted Mulry's backing group for the show and made a fair fist of his two sizable hits, Falling in Love Again and Julia. However. when it came to our own set, things went horribly wrong, our performance was lacklustre to say the least and we received some very scathing reviews.
Still not in the best of spirits, we returned the studio to demo a couple of numbers I had co written with our singer, Barry. New EMI head honcho PETER DAWKINS, freshly imported from New Zealand, was not a fan and our deal with the recording company was terminated.
My spirit was completely crushed and I decided to call it quits. Drummer Loppy Morris moved on to work with RICHARD CLAPTON, playing on the hit, Girls on the Avenue.
In the Cottage ranks, vocalist Barry Dominey moved back to his first calling, drums and bass player Steve Hart persuaded me to give it another crack , the plan to work as a full time backing group for Ted Mulry, and so was born TMG.
It was a no responsibility, no brainer gig and I enjoyed not having to deal with any pressure.
We worked in this manner for a few months before Ted decided to completely ditch the MOR ballads and follow the path of groups such as Slade and Status Quo, which would require him downing his acoustic and adding a second guitarist to the ranks.
At this point with a new wife and baby in his life Barry Dominey, relinquished the drum stool.
Guitarist Les Hall and drummer Herman Kovac, both from (Newcastle's) VELVET UNDERTGROUND were brought to fill the void in by manager Dal Myles.
I lasted two rehearsals before deciding this was not for me and Steve Hart quit a little while later, resulting in Ted taking on his familiar role as a singing bass player.
This was the end to an almost five year partnership between a guitarist, drummer and bass player who had created, what has been called, the defining sound of Sydney rock, our unique syncopated approach used as a blueprint by many far more successful, who would follow.
In ensuing years, I would individually work again with Ted, drummer Loppy Morris and bass player Steve Hart, but that is for following chapters . . . . . . . .